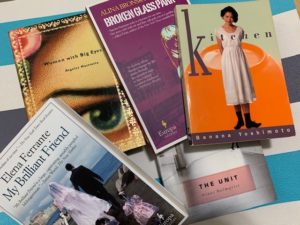 I'm so excited for the weekend, are you? No big plans but that's actually what I'm so excited about. I want to rest after a busy work week and catch up on my reading. And, hopefully do a bit of celebrating around Women In Translation Month!
Currently I am not reading any books in translation but I hope to change that soon. In the meantime I thought I'd leave you with some book recommendations of favorite books I've read, some more recent than others.
Kitchen by Banana Yoshimoto. I've read a couple of other of her books but this slim novel is my favorite.
Broken Glass Park by Alina Bronsky. You can read my review here.
The Unit by Ninni Holmqvist. Absolutely fabulous read that was thought-provoking and frightening. Here's my review.
My Brilliant Friend by Elena Ferrante. I haven't had the chance to pick up the next book in this quartet but I plan to.
Women With Big Eyes by Angeles Mastretta. This is a series of short stories of women who are larger than life. Here's my review.
If you are still looking for more suggestions I found this great list with books that have been published in the last couple of years. I know I have a couple of these titles on my shelves.
Let me know if you've read any of these books or if you have a wonderful book to recommend. You know I'm always looking for suggestions. Have a wonderful weekend!