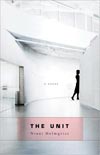 "There were eight of us. Only two were men, which wasn't that strange as the age limit for them is sixty. It's perfectly natural; after all, they produce viable sperm much later in life than we produce eggs. Even so, I had thought for a long time that the difference in age limits for men and women was unfair."
The Unit by Ninni Holmqvist
Dorrit Weger remembers when the new referendum was talked about but it was a new political party that no one paid much attention to and besides she'd never been much into politics. She figured she had all the time in the world to have a family but now she is fifty, single, childless and without a job in a progressive industry so her call of duty is to report to the Unit and be of service to those who have been deemed more deserving.
Life on the Unit means you are taken care of because you are valuable to a certain degree. There really isn't a cash system, there are restaurants, art galleries, dancing and you live in your own place. All the while being watched and slowly being used for drug experiments. As time goes on members are asked to donate organs to those on the outside who need them. Most members of the Unit live about six years before their final donation.
The months pass by and Dorritt, who so far has mainly been part of an exercise study, has started forming friendships and is perhaps even finding love. It all seems almost normal except for the fact that she starts to see her close friends endure harsh side effects and there's a quiet desperation that builds inside knowing that some members who you don't see one day may have gone on to give their final donation.
A crucial point in the novel comes when Dorritt's life is about to change. Can she perhaps have another chance as a regular member of the outside society?
While I expected to find a bit more rage or revolt from the members of the Unit it seemed to me that for the most part everyone just accepted things as they were. No one was happy but I couldn't help but wonder how does a society just accept this and no one questions it anymore? Is it because it has gone on for so long?
And, really who's to say one life is more valuable than the other? At least personally, I believe that we all have something to contribute to the world whether it's on a small scale or something grand. There has to be something and it can't just be based on reproduction. Reading this book my mind swirled with questions and not many answers from the book which of course makes this a perfect read for a book group discussion.
I think this is one of the best books I've read all year. I felt the horrible gut-wrenching moments when Dorritt saw her friends go away. I felt her fear as the night closed in on her and she was alone with her thoughts. It was a chilling read which I hope you'll decide to read too.
Source: Advance Readers Copy