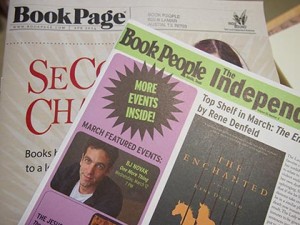 Another weekend flies by and not at a lot of bookish stuff to report but we had to go to REI today which meant a quick stop at BookPeople. And, I mean a very quick stop as the only thing I went in for was to pick up the BookPeople newsletter and BookPage. I wish we could have stayed longer but we also had to go do some grocery shopping and take care of a few other things.
The newsletter is the March one but I still enjoy reading it as there are some book reviews and upcoming calendar events.
What else, remember I went on a library ban at the beginning of March? I think my ban is going to be over soon because I had to put a book on hold for my next mystery book group meeting. We're reading Arctic Chill by Arnaldur Indridasson.
So that's about it. Oh, I also did a bit of crafting this weekend but more on that in another post. I hope you all have a great week ahead. I'm off to relax with my newsletters and add more books to the reading list!