I've finished a couple of books lately that are a bit more out of my comfort zone but guess what? I thoroughly enjoyed them.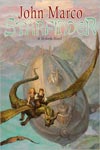 First, Starfinder by John Marco. This Young Adult fantasy novel is set in the city of Calio where Skynights fly the skies to protect the citizens from the evil beyond the Reach. With an adventurous young boy as its main character you will be in for a thrill with this story. Here's my full review.
John kindly sent me an ARC of his book and I just found out that he is also doing a book blog tour so stop by the blogs and hear more about the story. I know I can't wait for the next adventure. Also, I took the opportunity of making this one my first choice for the Once Upon a Time Challenge III.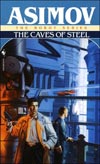 The next story I read is The Caves of Steel by Isaac Asimov. My very first Asimov! I read this one for my mystery book group and as you can imagine at first I wasn't too excited because I kept thinking it is a science fiction book.
Well, yes, it's set in the future and on a very changed Earth but it does have a mystery, a detective and a murder. I can't believe how much I enjoyed this (here's my full review) and what a great discussion it generated. I guess we started questioning how feasible some of these future aspects seemed. I did get a kick out of the book reader mentioned in the book which I can only assume is sort of like a Kindle.
Anyway, you know what else was out of this world? My birthday! My husband got me a gorgeous silver necklace, Into the Beautiful North by Luis Alberto Urrea (which I mentioned I wanted!) and The Guernsey Literary and Potato Peel Pie Society by Mary Ann Shaffer and Annie Barrows.
Not only that but we went out for some delicious veggie burgers and to see Star Trek. Can you believe I've never seen a Star Trek episode before? Well, it was a wonderful day and now I'm off to catch up on some reading and who knows may be I'll sneak in another bite of cake. Ha.