I was all excited when I got several packages today that I started ripping into them without paying much attention and imagine my surprise when the Amazon box I opened had this.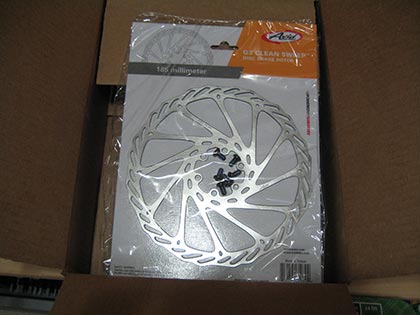 What the heck?! This isn't a book. Oh right, this is some bike stuff my husband orderd. I told him now I need a present to make up for such disappointment. Ha.
I can't complain though because I got a couple of books I'm very excited about. First one is a book I bought based on some reviews I remember reading from some of you guys in blogland, Ravens by George Dawes Green. See, I do like some gritty crime fiction. I just hope this one is more to my liking as opposed to the book I mentioned in my previous post.
The other book I got was A Shortcut to Paradise by Teresa Solana. This is a murder mystery set in Barcelona (I love Barcelona!) and it is a satire on the world of writers, literary critics and agents.
My other book is from BookMooch, which I hadn't used in such a long time, but I was looking for a book for one of my book groups and I lucked out. I got Odd Thomas by Dean Koontz. I cannot tell you how long it's been since I've read one of his books. Maybe 15 years?
You know what I really would like to do? Go on a bit of a splurge at Half Price Books. It's been a while. Not that my shelves are running empty but you can never have enough books. So have you gotten any good book packages lately?