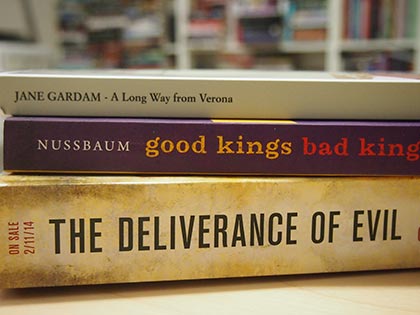 I've received some new books lately which I've been meaning to tell you about. Some happen to be e-galleys and while I do enjoy receiving these I admit sometimes they aren't as easy to read. I've noticed that the formatting on these can sometimes be really off. Anyway here's what's arrived:
A Long Way from Verona by Jane Gardam. Jessica has always known that her destiny would be shaped by her refusal to conform, her compulsion to tell the absolute truth, and her dedication to observing the strange wartime world that surrounds her.
Good Kings Bad Kings by Susan Nussbaum. I was excited to get this one as I had added it to my list earlier this year. This book received the PEN/Bellwether Prize for Socially Engaged Fiction.
The Deliverance of Evil by Roberto Costantini. A debut crime novel set in Rome and featuring Commissario Michele Balistreri.
For my Kindle I have:
The Yellow Eyes of Crocodiles by Katherine Pancol. From the publisher: a caffeinated, wildly comic, assuredly irresistible novel that revolves around Joséphine and Iris, two sisters in a charmingly discordant Parisian family.
Perfect by Rachel Joyce. From the publisher: Byron Hemmings wakes to a morning that looks like any other: his school uniform draped over his wooden desk chair, his sister arguing over the breakfast cereal, the click of his mother's heels as she crosses the kitchen. But when the three of them leave home, driving into a dense summer fog, the morning takes an unmistakable turn.
Don't all of these sound good? Now comes the hard part, which one to start. Let me know if you've read any of these and what you recommend!