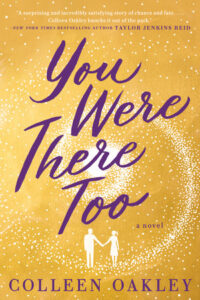 "I knew this was coming, didn't I? The signs were always there, jumbled up like an incomplete jigsaw puzzle, but there just the same. I try to stand, go to him, but my knees buckle, as I realize the other thing I know for sure – and I can't believe I ever questioned it, even for a second. It's him."
You Were There Too
By Colleen Oakley
Source: Advance review copy
Mia and Harrison Graydon have moved to a small town near Philadelphia to re-set their life. He's a busy doctor who hopes that working for a smaller hospital will mean more family time and Mia is anxious to focus on her art and thinks this fresh start will help.
Their new start though is upset by Mia not being able to find any art galleries that will represent her and most devastating of all is the third miscarriage she'll face. Harrison for his part is very supportive of Mia but he doesn't know how much more he is willing to see his wife in pain over not being able to have a child. He sinks deeper into work and Mia starts to feel disconnected and alone with the exception of the dreams she has.
Mia has always dreamt about a stranger and one day in town she sees the man of her dreams in the flesh at a local store no less. Later Mia will once again run into him and as the two become acquainted Oliver shares that he's also been having dreams about Mia for a long time.
What is this strange connection they have and surely there must be some explanation. Does Mia tell her husband and what is he going to make of her wanting to explore this?
I liked how the author addressed the issue of infertility and the toll it takes on the couple. My favorite part of the book though was the exploration of dreams and could two people really share a dream. For those of you who enjoy will they or won't they stories, you might like this as you don't know what will happen with the characters but some may find this problematic because Mia is after all married. I thought the story read very quickly and was engrossing enough to get me out of a reading slump I had been going through last month.