Karen from BookBath was recently awarded her first blogging award. Isn't that cool? And, she's been very kind to pass it on. With the award also comes a meme so enjoy!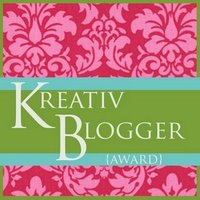 First the meme:
7 things I did before
1. Used to go dancing a lot
2. Wrote poetry
3. Scrapbook
4. Oil painting
5. Took several language classes – Italian, French, and German
6. Played the violin
7. Wrote letters
7 things I do now
1. Bookbinding
2. Yoga
3. Shop on Etsy
4. Drink coffee
5. Listen to NPR
6. Enjoy exploring my new city
7. Read several books at once
7 things I want to do
1. Travel
2. Speak fluent German
3. Get a bike
4. Learn to sew
5. Find a good job
6. Manage my time better
7. Learn to say "No"
7 things that attract me to the opposite sex
1. Intelligence
2. Loyalty
3. Creativity
4. Shared interests
5. Sense of humor
6. Personality
7. A bit of a German accent
7 Favorite Foods
1. Eggs
2. Chile relleno
3. Pasta
4. Chocolate
5. Chicken fried rice
6. Cookies
7. Smoothies
7 things I Say Most Often
1. Ay, Dios Mio!
2. It's no problem
3. Scheisse
4. I've got an idea
5. How funny
6. That book is going on my wish list
7. Love you
Now the Award is a hard one because there are so many creatives out there. Actually, before I pass off the award here's a quote on creativity that I really like and wanted to share:
"Inspiration is intention obeyed" ~ Emily Carr
I now tag these seven creative peeps:
1. Christine from Between Concrete and Sky. Her photographs are amazing. I remember when we traveled around Europe I often would try to shoot the same angles and perspectives so I could learn more. It was fabulous – I ended up with a lot of great pictures.
2. Chris from Book-a-rama. Scarves, headbands, chokers, oh my. She makes the most wonderful crocheted creations.
3. Danielle from A Work in Progress. I think I first took notice of Danielle's ATCs which are so pretty and of course now I love reading about her embroidery.
4. Isabel from Books and Other Stuff. Whether it's writing Haikus, working on collages or altered books, Isabel always has some creative stuff going on. One day we plan to go to Artfest.
5. Jodie from Pretty Little Love Objects. She writes great book reviews for Estella's Revenge and makes some very sweet necklaces.
6. Jenclair from A Garden Carried in the Pocket. If you check out her blog Bayou Quilts you'll know why she gets this award. Such lovely fabric creations.
7. Tara from Books and Cooks. I love hearing about her trips to the Farmer's Market and then seeing the yummy recipes she prepares with all those good ingredients.