This weekend I was digging through my old journals looking for one specific moment that I wanted to remember but of course flipping through these books took me a lot longer than I expected. I started reading old entries and just spending some time with my memories.
For those of you who journal, do you go back and read your old journals? I will revisit them occasionally but for the most part I'm spending time in the present with my current journals. Yes, I have several ongoing journals. I thought I'd do a little show and tell of my current journals.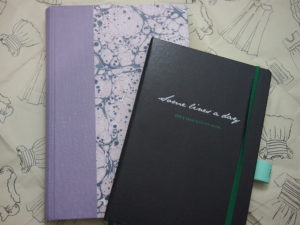 For my regular journal, which is the one where I work through my personal life, I am using a book I made. It's a hardback book with a cloth spine and marbled paper. I love the pages because they are unlined and a nice quality of paper which is perfect for fountain pen ink.
I also keep a Some Lines A Day journal. This is a five year journal which you are supposed to write in every day. I've had this for two years but I don't write it in every day. I like to write silly stuff, sometimes a quote, or just a little something to fill in the space.
My fauxdori journal, which is a term for an inspired Midori notebook. I bought after watching a lot of Youtube videos on Midori Traveler's Notebooks flip throughs. I know a lot of people keep these as planners but I just journal in mine. What's different from this one from my personal journal is that, I'll put in receipts, cards, pictures, etc. So it's almost more of a scrapbook.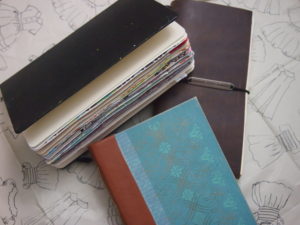 I also keep a poetry journal (the green one which I made) where I write down poems I've read that I love. I have favorites by Mary Oliver, Louise Gluck, and Rita Dove to name a few. My black moleskine journal is the one I use for art journaling. I collage, use spray inks, acrylics, etc. This one is getting messy and big. I love it.
Along with these I also keep notepads, a Filofax Finsbury planner and a separate travel journal. You can tell I love to write! Granted, I don't write every day but it is definitely a hobby that I've had since I was a child which only becomes more necessary the older I get.
I hope you enjoyed this and maybe it gave you some ideas on journaling. So tell me, how do you journal? I'd love to hear about your experience.