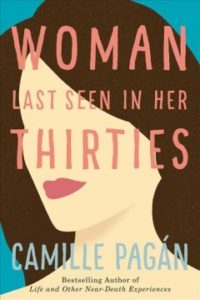 "It's an age-old story: woman meets man, man woos woman, woman spends her best years believing their love is the everlasting kind."
Woman Last Seen in Her Thirties
By Camille Pagán
Published: February 2018
Source: Advance review copy
With two grown children and almost 28 years of marriage, Maggie thinks her life is pretty settled but the rug is pulled out from under her when her husband tells her that he's unhappy and is leaving her for another woman.
Maggie is understandably shocked and confused. She gave up her career, her identity to be wife and mother to her family and now she is adrift. As she's coming to terms with the news, she realizes that the anniversary trip they had booked to Italy is all paid for so she decides she owes it to herself to go and live her life.
I know this may sound like the typical book where the main character goes to Italy or France and finds love and adventure and life is immediately better but while Maggie does meet some interesting people, this story is about her path to a new life even after the trip and it's not always easy.
As Maggie is coming to terms with her new life a family emergency gives her another option. So what will Maggie do?
I really enjoyed this book because I felt like Maggie's path seemed realistic. It wasn't all grand adventures and fantastic times. Actually lots of indecision, lots of questioning her choices but most of all this book is a reminder that whether you are busy working or caring for a family or both, it's important not to lose sight of yourself.