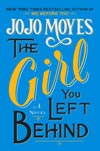 Drum roll, please… The winner of the giveaway for The Girl You Left Behind is Trish. Thanks to Penguin Books for the book and Random for helping me select the winner. And, thank you to everyone who entered the drawing. I love doing giveaways. Trish, I'll be in touch soon for your details!
So, I've been meaning to tell you guys about a few things that I've been enjoying and thinking about. Here are the links and I hope you'll enjoy them too!
Book Riot – Always books, never boring.
LitroMagazine – Stories to transport you. Issue 127 is the Victoriana issue! I know a lot of you will enjoy that.
Book Graffiti – Now this is some cool graffiti. I think my favorite is The Handmaid's Tale.
Dog Days of Summer Reading Challenge – The Estella Society is hosting a week-long reading challenge which is sure to be fun so check it out.
The Slaves of Golconda – The Slaves are reading Excellent Women by Barbara Pym for the discussion at the end of August. I'll be traveling around that time so I'm not sure if I can contribute but it's Barbara Pym! I'm going to try.
I hope you all have a wonderful weekend. Do you have big plans? I get to see one of my best friends this weekend – yay!