Ah the weekend is so close and how wonderful is that? It's been a long week. Still not used to working longer hours and the horrible commute I have at the end of the day but hopefully I'll settle into the routine soon. Before I go on about weekend plans though I want to thank everyone who commented on my review and author Q&A. This time I wrote up the names, put them in a little box and drew a winner.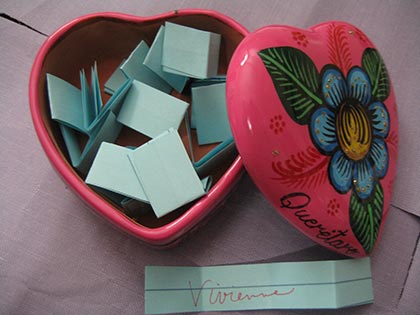 Congrats Vivienne! Send me your mailing address.
So what is everyone up to this weekend? One of my goals is to get caught up on blog reading. I feel like I've missed so much. Aside from yoga, date night at the bookstore and dinner with friends you know what else I want to prepare for? Virago Reading Week. I'll probably do a whole other post for that as I may need help choosing a book.
On top of that I just realized that I have a week to read the latest Slaves of Golconda book, The Summer Book. I am looking forward to it a lot.
Alright, I think that's it. Hope you all have a wonderful weekend and more bookish stuff soon.