Finally, I get to tell you about two books I've recently finished. First up is The Collaborator of Bethlehem by Matt Beynon Rees.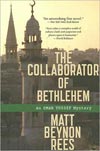 This was a book I read for my new mystery book group and we had our meeting to discuss the book earlier this week. While some of the members didn't think the mystery itself was that strong we all agreed that the setting made this a very readable book. We couldn't think of another mystery sleuth who not only has to deal with the issue of solving the murder but also keeping his family safe in a very unsafe place.
The book sparked a great discussion so I'm excited that my first official meeting (the last one I went to I hadn't read the book) was such a promising one. In the coming months we'll be reading books by James Lee Burke, Elmore Leonard and Dashiell Hammett… All new to me! Anyway, for more of my thoughts on this book click here. Also, did you know that this book just won the 2008 New Blood Dagger? I will definitely be looking for the second in the series. And, speaking of series, I'm counting this one as a read for my First in the Series challenge.

My other read was Die With Me by Elena Forbes. I hadn't heard anything about this book when I saw it on the bookshelves at the library but I do enjoy British police procedurals so I checked it out. I must say I was surprised at how quickly I guessed the whodunit and was hoping it was going to turn out a bit differently in the end, but perhaps the next book will be a bit more complex. You can read more about it here. Interestingly enough this was also a nominee for the 2008 Daggers.
And, on the subject of mysteries have you guys caught the Crime in the City series on NPR? Good stuff there so check it out. In the meantime I'm off in Assisi with the handsome Commissario Cenni from Grace Brophy's debut The Last Enemy.
What good mystery are you reading now?