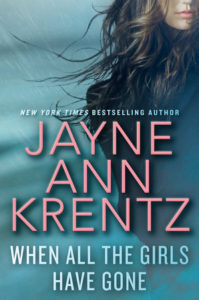 "The killer waited patiently for the target to emerge from the cabin. There was no great rush, after all. The waiting allowed time to savor the prospect of revenge."
Where All The Girls Have Gone
By Jayne Ann Krentz
Max Cutler is struggling to get his PI career off the ground so taking on a new case where the client doesn't have a lot of money is probably does not make good business sense but a case is a case. What he didn't count on was that he might have some help finding the killer.
For Charlotte Swayer this is personal. She knew the dead woman as it happens to be one of her sister's friends. Charlotte's sister, Jocelyn, is at a retreat but when Charlotte tries to get a hold of her and realizes that Jocelyn never checked in she knows something is very wrong. Charlotte is not a PI but she's not going to be left out of the investigation and convinces Max that she can help him find her sister.
The two question Jocelyn's friends and uncover that while the women had formed a financial club there was also another reason that drew them together and now the secrets of their pasts might be what gets them all killed.
Jayne Ann Krentz is a popular author of many romance novels and has won countless awards. While I didn't feel like this differed much from her other books perhaps that is what keeps her readers coming back. The main characters are always relatable and likable. They are smart and just seem like normal people. I did wonder when I turned the last page if this was the beginning of a series because Max happens to have two other brothers he's very close to and I could see them all coming together to help with other investigations. I know I would enjoy reading about these characters again.
Source: Advance review copy