"What is an archive? It's a memory trail, like those old Victorian photos – is that a ghost? But here, it's a ghost of your work, a ghost of yourself… When I was looking at it today, rising around me were the walls and people I was surrounded by when I wrote it. It's a haunted river, a long river." ~ Sebastian Barry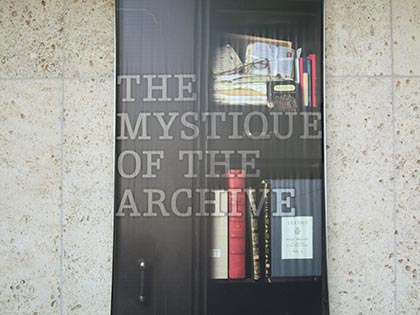 Aside from doing a bit of book shopping this weekend we also went to the Harry Ransom Center to see The Mystique of the Archive exhibit. The exhibit focused on what makes an archive and showcased anything from bits of notes and photos to full manuscripts and first edition books of literary luminaries such as Umberto Eco, Julian Barnes, Samuel Beckett, and many others.
To me archives definitely have an aura of mystery about them. What might you find in those scribbled notes or what ephemera did someone hang onto and why? Was it actually important or just something that never got thrown out?
I'm fascinated by this probably because I tend to be a bit of a packrat and wonder about my stuff and what will happen to it. Will anyone care about it or centuries down will some of my photos be found in a box at a flea market? I know I love to look through old photographs. I've even bought some just because I'd like to give those lost relatives a home (or maybe use them for one of my collage projects).
Anyway, some of the exhibit highlights for me were:
A corrected manuscript from Sebastian Barry and a watercolor drawing that he had on his desk. Don't know if he drew that or where it came from.
An framed organizational chart for Harlot's Ghost by Norman Mailer. Very interesting to see the connections of his characters.
An uncorrected advanced page proof of J.D. Salinger's Catcher in the Rye.
A folder with the first draft of The Magus by John Fowles. Interestingly enough, the original title was The Magos. I wonder why that was changed? I loved that book. Maybe I should pull out my copy and see if there's any mention of that in my edition.
A fascinating exhibit. It goes on for a while longer so I may have to go back for more. If you want to read more about the books featured in the exhibit or books that feature archivists check out The Mystique of the Archive Reading List.