Last week I know I had asked you guys for some help in finding a good love story and I didn't forget about your suggestions. I added all books I hadn't read to my wishlist but I thought I'd also treat myself to one book. So guess which one did I go for?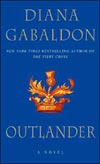 Outlander by Diana Gabaldon. I've read countless reviews on this one and have heard it being recommended over and over again so I thought it's time to give it a try. I just didn't realize what a chunky book this is at 850 pages. Can I count this as two books? Just kidding.
Unfortunately I haven't started it yet because, yes, I'm still trying to finish my mystery book. You'd think I wasn't enjoying it and actually I quite like it, it's Black Fly Season by Giles Blunt in case you were wondering, it's just that my reading has been a bit slow going lately.
For now I've got my cup of tea ready, I'm all comfy and ready to finish Black Fly Season tonight.