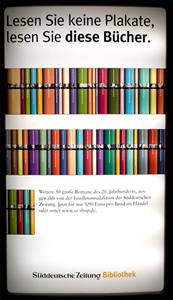 Don't read any posters. Read these books.
We saw this poster when we first arrived at the Frankfurt Airport. An auspicious start to good vacation don't you think?
Even though my German is still not good it doesn't take away from my enjoyment of the bookstores. Aside from checking out how well stocked the English book sections are, I also browse around the whole store. I want to see the differences in book cover art, I want to figure out the titles of books and I like to come upon favorite books.
I didn't go too crazy with the book buying this time around but on my trips to Buchhandlung Hugendubel in Frankfurt and Thalia in Braunschweig I bought the following books:
I also bought some cute bookmarks and a copy of Marie Claire Idées. Hurrah. I'd heard a lot about this magazine from some of my crafty friends but I hadn't been able to find one in Dallas. Let's see if I can still put my knowledge of high school French to good use. At least there are a lot of pictures of pretty things so I'll enjoy those. Heh.
Hopefully tomorrow I'll tell you about the books I read. Gotta finish up my book reports.