Ever since I saw Joy's announcement of the 2nds Challenge I knew I'd be joining in. I've been participating in her First in the Series Challenge and have managed to read some great first books so it's only natural that I want to read the next book. This will be the perfect excuse to do just that.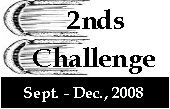 The challenge doesn't start until September so I still have time to come up with my final list (well, I'm sure I'll make changes as I go along as I tend to do that) but I thought I'd share some of the books that I've been thinking of since I found out about the challenge.
I realize these are all mysteries and I could easily pick books in some different genres but when I think of a series, I always think of mysteries first. So, that's my long list for now. I only have to read four books for this challenge but these are all books I want to read so even if I don't get to them for this challenge, they are on my TBR shelves and I will get to them eventually.