So, we went to Barnes & Noble this weekend but I was too late for the Classics sale. Darn. But, all was not lost as we spent a very nice evening checking out some magazines and buying books.
First, has anyone read A Public Space? We were getting ready to leave when I saw this literary journal so I didn't have time to check it out but thought I'd ask you guys.
I saw that Rubber Stamp Madness, a magazine I go to to find out about new products, is now only publishing four times a year. It's sad to see magazines pulling back on their publication schedule, or worse yet, shutting down. Has one of your favorites stopped publication?
Anyway, here are my super deals I found – each book was $1!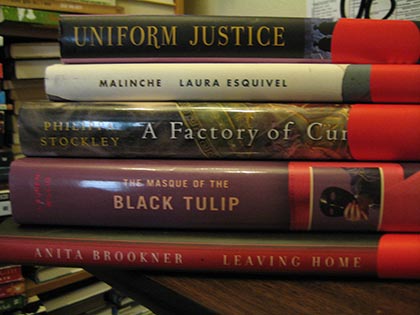 A Commissario Brunetti novel, Malinche by Laura Esquivel, A Factory of Cunning by Philppa Stockley, The Masque of the Black Tulip by Lauren Willig and Leaving Home by Anita Brookner. Woot!