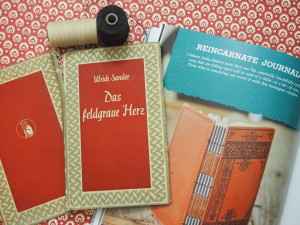 I didn't do too much this weekend but we did spend some time at Barnes & Noble on Friday. I even ran into a former co-worker which was really nice and got to catch up a bit.
In between naps, reading and running errands I finally found my first bookbinding project of the year. I looked through Bound, which my husband recently gave me, and decided to make the Reincarnate Journal.
Aside from the fact that I can give an old, falling apart book a new life, I like that this book requires four different types of stitching to come together. Running stitch, kettle stitch, coptic stitch and sewing over tapes. My journals typically have some of these stitches just not all together so I'm excited to combine them all in one book.
So the first step was to look through my stacks of old books and I found this book which my father-in-law gave me. It was barely holding together by a string so I'm excited to turn this into a new book. I can't decide which color of thread to use and I'm almost tempted to use both the cream and brown pictured here.
The paper you see in the background is for the covers. The inside of the book covers is not damaged but doesn't look all that great either so I think this paper will go very well with the book. For the tapes I'm going to have to think about that a bit more about what I want to use.
I probably won't get a chance to work on this book until next weekend but it's fun to have a project waiting. Now, I have to get back to my current reads and see if I can finish one book tonight. I'm very close! Hope you have a great week ahead.