It's been a stormy weekend which translates into perfect weather for reading and crafting. Before we left on vacation I had started several bookbinding projects and so aside from organizing my studio, I had to remember exactly what I had left started. Did that paper go with those boards? What color thread went with what book? You get the picture.
I didn't finish everything but I had a fun time working on new books, doing some art journaling and stuff like that. I actually started working on some journaling tags which I think are kind of fun so I'll have to show you a picture of those next time.
Now, with regards to the books. I have five books going on. Want to see?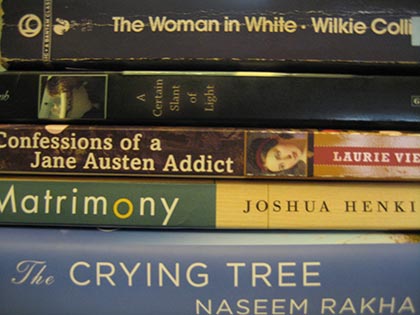 So, a bit of variety but so far I'm enjoying all my reads and best of all, most of these count towards my reading challenges. I should be done with A Certain Slant of Light soon as well as The Crying Tree. By the way, thank you everyone who's left a comment for the giveaway. That's still open so jump in on that.
It's still not too late so I think I'm going back to the studio to play around with paper a bit more.