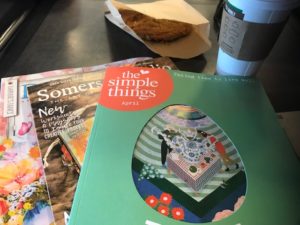 We enjoyed a really nice weekend and one in which I feel like I actually was able to cross off quite a few things from my to do list. To start off the weekend, I finished The Awakening by Kate Chopin Saturday while I enjoyed my breakfast. I was looking back on my blog and noticed I first mentioned wanting to read it back in 2007! Who knows how much longer it's been sitting on my TBR shelves.
Anyway I really loved this book. Have you read it? Here's just one quote that I have to share:
"I don't mind walking. I always feel so sorry for women who don't like to walk; they miss so much — so many rare little glimpses of life; and we women learn so little of life on the whole."
I couldn't seem to get the book out of my mind all morning but a good distraction of course was going to the bookstore. I had my cafe mocha, a cookie and ended up buying the latest Somerset Studio magazine because it has several articles on different book structures. There's not a lot of instruction but I mainly wanted it for the visuals.
Today was mainly a day for staying in and doing some chores but I also managed to spend a bit of time crafting and listening to music. So all in all a great weekend. I hope you all had a wonderful weekend and maybe even managed a trip to the bookstore. Let me know what you were up to and if you bought any new reading material.