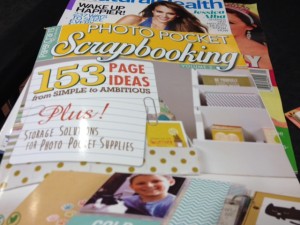 Do I really have to go back to work tomorrow? I guess so. It's been so nice to have more than a week off from work. I can't say that I did all that much but I was able to spend more time with my mom, work a bit more on my studio organization and you know, sleep!
These last few days have been about making the most of the time off. We did another date night at the bookstore and I read tons of magazines but the one I was most interested in was the Photo Pocket Scrapbooking magazine.  I know the pocket page scrapbooking craze has been around for a while but I'm just now getting into it. I still love art journaling and my regular journal but I do take a lot of pictures and want to have a physical copy of them rather than just on my hard drive. So we'll see, I did buy some pages Snap Studio pocket pages and will start working on those soon.
I've also been doing a bit of weeding of the bookshelves. It is so hard to let go of books but there are some books which have been on my shelves for ages and either my reading interest have changed or now I don't know why the book was so interesting in the first place and so I'm letting go of a few books.  Nothing major but just enough to add space for new books of course. Hee.
Finally, I have been checking out reading challenges. You guys, there are so many fun challenges! I've thought about it and I've decided to join four. You are probably wondering why given that I didn't complete any of my challenges last year but I have to say apart from being fun, they serve to remind me to add more variety to my reads. If I don't complete them it's ok. No big deal and if I do, well that's a bonus. So I'll tell you more about those in the next coming days as I work on potential reading lists, etc.
I also have to tell you about a library visit and some other new books but right now, I'm off to get in just a bit more reading before the start of the week.