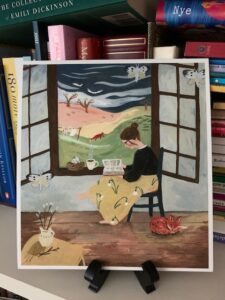 I hope you all had a very nice weekend. We enjoyed ours by trying a new recipe and watching a new show but before we get into that can we just admire this beautiful print?
My dear friend, Christine, sent this to me and I love it so much. She knows me so well. It's so funny because as my hair has gotten very long I often wear it in a little bun and I would say I spend most of my time barefoot unless I have to go out. I don't have a pet fox but I can imagine having one. Not sure where I'm going to eventually leave my print so for now just trying different areas around my craft/library room.
Speaking of my craft/library room, I spend part of the weekend cleaning. I want to donate some stuff I no longer use and there's a great place to donate arts/crafts supplies here in town but with the pandemic they are only receiving donations by appointment and those spots fill up quick.
Oh and the food, we had a Greek Salmon quinoa bowl which was really delicious and filling. We used a recipe very similar to this one. The one we had was also from a magazine but I cut it out a long time ago and can't remember where I found it.
As far as the tv show we started watching, The Crime, a Polish police procedural. There's only three episodes to the first season so we'll finish it this week. It's not the best but it's entertaining and we just love watching international crime shows.
On the book front, I had great expectations of at least finishing one of my four current reads and that didn't happen. What can I say, my reading is just definitely not where it usually is but I'm planning to take a couple of days off soon so hopefully when I have a bit more downtime I can really relax and enjoy more reading.
Anyway, that's it for me, how was your weekend?