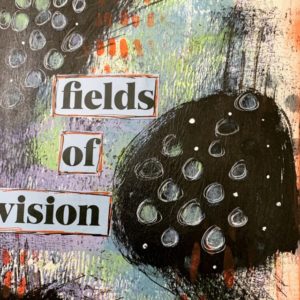 Last week it seemed like the work week was never going to be over and now the weekend just zoomed by. I know it's because we're done with all the holiday stuff and now it's back to a regular schedule. Anyway, I did have a great weekend and managed to finish two books and even work on some crafting projects.
This photo is a snippet from my art journal. Acrylics, white gel pen, stencils and cut out words from a magazine. I'm also making a simple pamphlet type journal but the best part is the paper because it's from a paper collection called Public Library. How perfect is that?
We also went to the bookstore on Saturday and I found the latest edition of the Bella Grace Field Guide to Everyday Magic. I love this journal. The pages are matte and it's filled with journaling prompts and pretty pictures. If you are someone who wants to get into journaling but feel like at a loss for what to write about a magazine like this one would be a great way to get some prompts for writing.
I still have a bit of money left on a gift card but I'm going to save that until our next visit as I was hoping to find another magazine but didn't see it.
Regarding the books, I finished Bodega Dreams by Ernesto Quiñonez and The Last Book Party by Karen Dukess. I'll try to do some write ups of both but I can tell you that I highly recommend Bodega Dreams.
Alright friends, I hope you have a great week ahead and I'll be telling you more about books I'm reading and the slew of E-Galleys I've added to my Kindle.