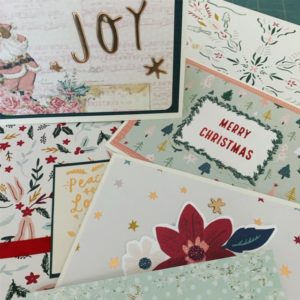 We had a very nice weekend and I'm actually starting to feel in the Christmas spirit as I worked on some Christmas cards. I've made my own cards a few times but being that I have so much paper and for some reason I had bought several scrapbook papers that were specifically Christmas/Winter collections then I thought, I have to do this.
I don't send as many cards as I used to in years past and not everyone will be getting a handmade card but I just know some people really like these so they'll be getting them. Just a few more to go and then they are ready for the post office. In case you are wondering what papers I've used, it's a combination of Crate Paper Snowflake and Prima Santa Baby. The cards are pretty simple but I am busting out embossing powers, glitter, ribbons and it's just a lot of fun.
Aside from the crafting the other fun thing we did this weekend was going to see Knives Out. Have you seen this movie? I really enjoyed it. It's been ages since we've been to the movies but I had some free movie passes and that's actually one movie I had thought I wanted to check out. Of course after seeing the movie, I'm now in the mood to read some Agatha Christie or some other Golden Age type mystery.
So that was our weekend. What about you? Have you started decorating or doing anything special for the holidays?