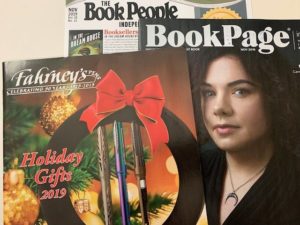 How was your weekend? I have continued to work on organizing my studio and yes, have found stuff I had forgotten about! It hasn't all been cleaning because of course I've gotten distracted and wanted to work on some projects but I feel like I've done a lot. My favorite part of the weekend though was when we went to BookPeople on Saturday.
We don't go there too often as it's in downtown and while we aren't too far, Austin traffic is awful and typically end up at Barnes & Noble first as that's closer to us. Anyway, we browsed a bit and I was excited to find BookPage and the BookPeople newsletter. On the cover of BookPage is the story of Erin Morgenstern and her new novel with the premise of a long-lost library book. Hmm, sounds like my story as the Austin Public Library still hasn't found a book I returned!
Anyway, I'm looking forward to reading both of these and getting more book suggestions because why not? The other fun catalog that arrived this weekend is the Fahrney's Holiday Gift catalog. So many beautiful fountain pens and inks. I may have to write Santa about one of these. Ha.
So that's a bit of what we were up to this weekend. I still can't believe how quickly the end of the year is approaching, can you? I hope you have a fantastic week ahead and more book talk soon.