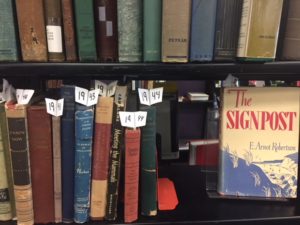 I hope you guys had a great weekend! Remember how in my last post I said I didn't want to start any new books until I finished one? Well, I knew I shouldn't have typed that because what do you know, I've started a new book. But I promise I have a great reason.
So my husband had a meeting on Saturday and it was at one of our public libraries. I dropped him off while I went to Recycled Reads and while I had a great time checking out their vintage books, I was a bit bummed out that I didn't find one I really liked for my altered journals. I did find a neat booklet "bookmarks for Cooks." If I ever get around to making an altered journal for recipes these will be perfect for that!
Anyway, after that I headed back to the library to pick up my husband but I was a bit early so I started browsing the shelves. Seriously this is the best place to have a meeting because if you are early or waiting on people, you will not be bored. I was trying not to pick up any new books but when I saw Can't We Talk about Something More Pleasant by Roz Chast. I had to check it out and immediately sat down to read it.
My husband texted me that he was still in his meeting for a bit longer and I was only too happy to wait as this book is everything. It's a memoir of an only daughter dealing with her aging parents. You can say it hit home for me. I could easily have finished the book in one day but this is one I want to take my time with but I can already tell it's probably going to make it to my favorites of the year list.
Anyway, that's the weekend. Hope you had a great one and let me know if you picked up a good book recently!