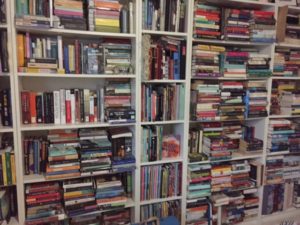 I hope you all had a wonderful weekend. I was up to a bit of this and that but mainly doing a lot of re-arranging in my art studio/library. While I know where a lot of stuff is located I realized that there are a lot of supplies I don't use any more.
Maybe once I had a love affair with oil pastels or some embossing pigments but now I'm into other things. So I've been going through all the drawers, pencil cases and storage bins to figure out what I want to keep and what I want to donate. We have a great place in town called Austin Creative Reuse and you can donate all kinds of craft supplies. It's like a Goodwill but for crafters/artists. I love it.
On the book front, we went to Barnes & Noble this Sunday for a bit of browsing. I don't know how I still find new magazines to check out when I have tons at home. For me magazines are such a great source of inspiration for my journaling and crafting. Oh and B&N now has Lamy's on display! I love those pens.
And, I've finished my first book for the month of December, The Good Mother by Karen Osman. It was quite good. I actually woke up a bit late today but after my breakfast I still came back to bed to finish it up, I was that hooked on finding out what happened.
So that's the latest around here… What about you? Did you get up to some fun stuff this weekend?