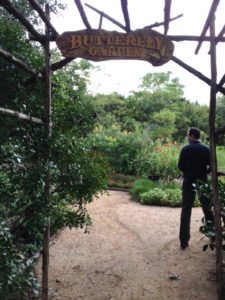 How was your weekend? Hopefully you were up to some fun. Our weekend was quite busy between running errands, chores, etc. My original plans to see some of my family members fell through but we're working on new dates. As we didn't have anything major going on Saturday morning we headed out to The Natural Gardener to attend a talk on Gardening for Wildlife.
Over the past couple of years we've made a big effort to use native plants and go with plants that are drought tolerant and low maintenance. I've also paid attention to what kind of plants attract bees, butterflies, etc. and so this talk was to supplement the info I had. I was happy to hear that we do have some good stuff already in our garden and I think our efforts are paying off. This summer I have seen some hummingbirds, dragonflies and butterflies in our garden. Our succulents area is doing great too.
The Natural Gardener is a wonderful nursery and we could easily spend hours there but after the talk we were ready to get a few more plants and come home to get them planted. So we bought more milkweed, Gregg's mist flower, White mist flower and another rock rose. The rock roses are my favorites and seem to do well in our garden. We made a few changes in our backyard over the weekend. Moved some plants around hoping they'll be better placed and took out some that just didn't seem to be making it. Anyway, looking forward to seeing how the new plants do and hoping wildlife will enjoy the habitat.
And, yes, there was reading going on this weekend but I think I did more magazine reading than book reading. I haven't been doing any art journaling lately so I picked up one of my Art Journaling magazines to get my creative juices flowing. I also found a new copy of Cloth Paper Scissors that I had to buy because there was an article on handmade books and working with vintage photos.
So that's the latest from Casa Bookgirl. Hope you have a great week ahead!