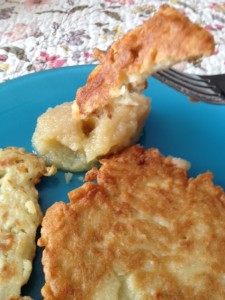 I hope you all had a great weekend. This weekend was one for trying new recipes and enjoying some down time. Last week I sent my husband an article I read about the 11 Foods Germans Miss when they're in the U.S. My husband definitely agreed with most of these and he decided he would try to make one of his favorites for our lunch on Saturday.
He has fond memories of his grandmother standing by the stove preparing Kartoffelpuffer and serving them one after another to him and his brother. This was his first time making these, which are like potato pancakes, and I got to enjoy them. Yum. You have to eat these with applesauce.
Not only that but he also made some Cowboy Cookies and oh my goodness these are delicious. We enjoyed these while watching Bridge of Spies, which we really liked. Good thing I went to the gym after all of these goodies.
In bookish news we stopped by Barnes & Noble today and I discovered Willow & Sage magazine. No, I'm not adding a new craft to my list of hobbies (at least not yet!) but I found a recipe for a sugar scrub. I know we don't have nearly as cold temperatures as many others do during the winter but nevertheless my skin gets very dry so I would love a nice, moisturizing bath product. I plan to get the ingredients this week and hopefully can have my own spa day at home next weekend. Now that's something to look forward to right?
My reading is still progressing at a snail's pace for some reason but sometimes that's just the way it goes right? I am really enjoying The Secret Place by Tana French but it is a long book. I did sneak in some poetry this weekend from Mary Oliver.
Wishing you a great start of the week!