Last month I finished nine books (yes, I still need to tell you about some of them) but for some reason this month just seems really slow going. That ever happen to you?
I'm reading some interesting books but I seem to be taking my time with them, and that's not really bad. I guess it's just that I see all those piles of books waiting and hear about so many new books that it's hard not to get a bit overwhelmed but I'm going to keep enjoying my current reads. So what have I been reading?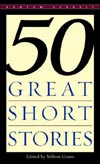 Well, I finally read some Dorothy Parker. I picked up my 50 Great Short Stories book and read The Standard of Living which is a story about two friends, Annabel and Midge, who often play a game "what would you do if you had a million dollars?" The game is fanciful and allows them to make up a life vastly different from their own but after one afternoon out shopping they reach some conclusions about their game and the reality of their lives. Very good story. I have The Complete Stories on my shelf and I can't wait.
My other read is Famous Writers School by Steven Carter. I got this thanks to the wonderful folks at Soft Skull Press. This story is about Wendell Newton who runs a correspondence school for writers. He gives them assignments, they send in the writing and he sends back critiques. A very clever book and I just know Wendell is going to be in for some surprises with his three students.
Finally, this weekend I also made a bit more headway into Portrait in Sepia by Isabel Allende. Last year I read Ines Of My Soul and was really disappointed by it but this book is great so far. It reminds me of earlier Allende books where so much of the story hinged on getting to know the family history. I'm reading this one in Spanish and it counts towards my Latin America Reading Challenge. I haven't read a book in Spanish in quite some time so when I first started this book I felt like I was reading very slowly but now it's all back to normal. Good thing but it just reminds me I should read more books in Spanish.