I'm getting ready to pack up my books and all the other goodies I'm bringing with me for the studio tour. I know some of you have asked me and the event is actually not at my home studio but I'm joining the E.A.S.T. Austin Studio Tour which is a wonderful gathering of artists that happens every year.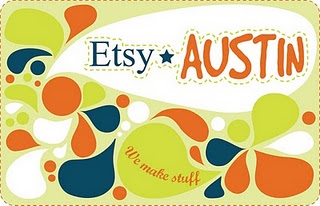 I belong to the Etsy Austin team and we'll have a spot at Flatfork Studio. I'll be there on Sunday so if any of you are in the Austin area stop in and visit. Unfortunately it looks like we may have rain on Sunday if that's the case I'm not sure what we'll do as we are outside and I don't think my journals would like the rain. I'm hopeful that the rain will hold off a bit.
This whole process of getting ready has been really exciting for me because I'm learning a lot and it's re-ignited that creative spark, which seemed to be M.I.A. for a couple of months. I have to thank my husband for helping me get my display ready and also helping with some of the creations. I have to thank my mom for going with me to yet another run to Hobby Lobby for last minute crafty items. And, I have to thank all of you my sweet friends for supporting me and following me even when I've been quite absent from blogland.
I promise a full report, and with pictures, for my next post. Have a wonderful weekend!