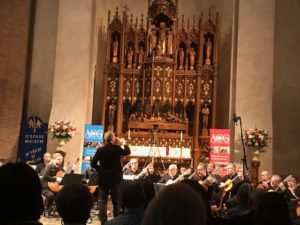 I hope you all had a wonderful Mother's Day weekend. We had a really nice weekend and I just wish it would last one more day. Isn't that always the case though. Ha.
The weekend kicked off with a lot of rain but despite the downpours and much cooler temperatures, I ran a lot of errands on Saturday. I lucked out at JoAnn's and found some crafty things at a great discount. Not that I need more crafty supplies but like books, I can't help myself when I'm around them.
Saturday evening my husband and I went to a fabulous concert presented by Austin Classical Guitar. The concert was at a Lutheran church and they played music from Bizet to the Beatles. When the director talked about one of the pieces he described it as a mysterious beauty and as I was listening to the music amidst the stained glass windows and candles at the altar, well, it was a bit of an otherworldly experience. I'm looking forward to more concerts later on in the year when the season starts again.
Today I hung out with my mom and we watched a lot of television but we talked about my Abuelita and stories of my mom's youth. I always enjoy hearing about that and really should be more diligent about recording them in my journal.
On the reading front I have finished a couple of books which I'll tell you about in another post. I hope you have a great week ahead and more book talk soon.