I hope you guys had a great weekend. Our started off with a social bike ride on Saturday. My husband does these quite often but this was my first time and I was a bit excited but worried about lagging behind. We went out to East Austin with a small group and rode around various roads, most had bike lanes, making our way to the Walnut Creek Trail. It was a lot of fun to be out and about and it really is amazing how much you get to see when you are on a bike and not zooming by on your car. We did almost 11 miles and I think I'm ready for my next ride!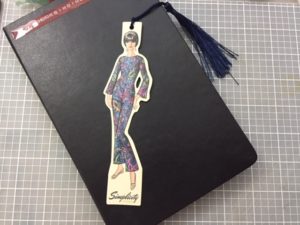 On to book happenings, I did go to BookPeople but didn't find the magazine I was looking for but I did find Book Page. It had been ages since I've seen an actual copy of this. So excited and can't wait to read the book reviews. But the best bookish find was actually at Joann's craft store. They had all kinds of cute note cards, calendars, bags, etc. in celebration of Simplicity Pattern's 90th Anniversary. I had to have this bookmark. Isn't it wonderful?
My mom used to be a seamstress and she sewed all of my clothes for the longest time. I still have some of my special occasion dresses she made me because I just can't part with them. I have such great memories of us going to Cloth World and Hancock Fabrics and sitting at the tables with the pattern books and finding patterns for new clothes.
It's funny to me now that I don't cook, despite my dad being a chef, and I can't sew despite my mom being a seamstress yet I have these dreams of cooking fabulous meals and sewing beautiful creations but I guess that's where my crafty spirit comes from right?
Anyway, finding that bookmark made my day and I'm so glad I can add it to my collection.
I don't know how much reading I'll do the rest of the weekend because we've started watching Bosch and we're hooked. Hope you have a great start of the week!