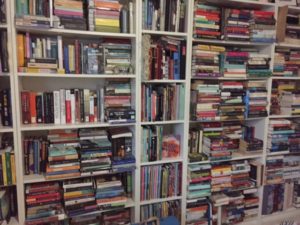 I hope you all had a wonderful weekend. We celebrated my husband's birthday on Saturday by going out to a new restaurant for some delicious pizza and topped that off with a tiny pie. So delicious. We also started watching a new crime show, Trapped, which is set in Iceland. We are only two episodes in but there is a lot of stuff going on and the characters are also dealing with a major snow storm. I have to say watching a snowstorm is kind of nice as we are still in the 90s here in Austin.
Today we spent a bit of time at the bookstore and I found out that Bella Grace magazine has a new special edition out, Field Guide to Everyday Magic. This is really cute and if you are thinking of journaling but don't know where to start or it's been a while and you need some prompts, pick this up. Each page poses a question and gives you some inspiration on what to write about. Plus there are some lovely photos throughout. I didn't buy this but I may go back and get it. Not that I need more journals but I just may not be able to resist.
In book news I finished Murder in the Bowery by Victoria Thompson which is one series I've managed to keep up with. Loved the characters even if the mystery was a bit simplistic. I've just started The Laptev Virus by Christy Esmahan for my mystery book group discussion and this is not a typical mystery for us. It's about a megavirus that somehow is going to be unleashed and scientists racing against time to find a vaccine. This is definitely not my usual read either but the first few chapters have certainly grabbed my attention.
So what about you, did you start any new books this weekend?