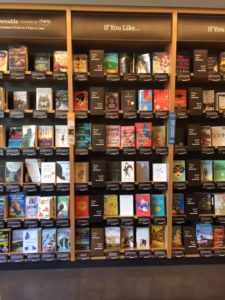 I hope you all had a wonderful weekend. We celebrated my husband's birthday by spending some time window shopping, trying out a new restaurant and savoring some gelato. One of the places we went to was Sur La Table. If you love to cook this is the place for you. I don't cook but my husband enjoys it (thank goodness) so we browsed in there quite a bit.
We also went to an Amazon Books retail store. It was fun to look at the new Kindles and to see how the store is laid out but this reminds me of an airport bookstore. A limited selection of bestsellers, some magazines and a few other bits. No comfy chairs anywhere. We did get a cookbook, Simply Vegetarian Cookbook, and hopefully will enjoy a new dish next weekend.
So not a lot of reading was done over the weekend although I did finish Disappearance at Devil's Rock by Paul Tremblay. I am not sure how I feel about this book. There were some good suspenseful elements but in the end I was left feeling sad and lacking closure. I do recommend it though if you are looking for a good R.I.P. read. I'll try to write a bit more about that one soon but let me know if you've read it and what you thought.
Now to get busy on my book group read as I need to make sure I finish that in time before next week.