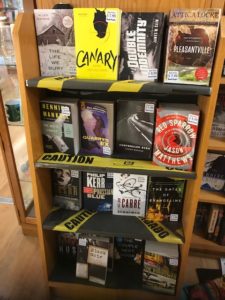 I hope you all had a wonderful weekend. I enjoyed it very much as I got to celebrate my birthday and had so many wonderful notes and calls from friends and family. My husband took me out for a delicious breakfast at a French bakery and of course we took home three different slices of cakes to savor later in the day.
One of the highlights was also stopping in at BookPeople. I love wandering the aisles to check out the recommended reads. I can always count on finding books by indie presses and local authors. I thought the display for one of the mystery end caps was fun.
We also made it out to a local nursery to look for some new plants for a part of our front garden. We settled on several native, drought resistant plants. We always go for native, low maintenance type plants. I think we found some really pretty ones (gaura, blue aster and rudbeckia) but of course I am already anxious and want to see lots of blooms. Haha…
Oh and finally a quick visit to Half Price Books but I didn't find the books I was looking for and instead found some beautiful paper by Pepin Press. It's gift wrap paper but I can easily use this for other kinds of crafts so that was a neat find.
It was great to have a three day weekend but now it's time to get ready for the work week ahead. Let me know if you made it to any bookstores over the weekend.