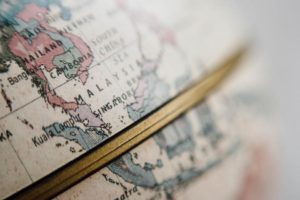 It looks like thanks to the Coronavirus we won't be able to travel this year so I guess for now it's all just armchair traveling. So when I saw this tag on The Chocolate Lady's Book Review blog, I had to do it. I've challenged myself to answer with books I have read and own. I almost did it except for two books which I do have but haven't read yet. I'll let you know below which ones they are.
The Rules:
Mention the creator of the tag and link back to the original post: Thank you to Alexandra @ Reading by Starlight for the tag!
Thank the blogger who tagged you: I wasn't tagged but thank you to The Chocolate Lady's Book Review for posting this!
Answer the 10 questions below using any genre
Tag 5+ friends: I am terrible about tagging but if you see this and want to join in, please do so.

Secrets and lies: a book set in a sleepy small town
The Bookshop by Penelope Fitzgerald. In 1959 in the small village of Hardborough, Florence Green decides to open a bookshop only to find herself at odds with some of her neighbors. I just realize that this was turned into a movie! I read many years ago and highly recommend it.
Salt and sand: a book with a beach-side community
Remarkable Creatures by Tracy Chevalier. On the windswept, fossil-strewn beaches of the English coast, Mary Anning discovers an unusual fossilized skeleton. I loved this book for the two main protagonists and the work of women in scientific fields which is not always welcomed.
Here there be dragons: a book with a voyage on the high seas
The Odyssey by Homer. When Odysseus has to travel home after the Trojan War his faces epic struggles and even faces the wrath of Poseidon, the God of the Sea, himself. I read this one back in college but wouldn't mind reading it again one day.
Tread lightly: a book set down a murky river or a jungle
The General in his Labyrinth by Gabriel Garcia Marquez. General Simon Bolivar, "the Liberator" of five South American countries, takes a last melancholy journey down the Magdalena River, revisiting cities along its shores, and reliving the triumphs, passions, and betrayals of his life. I do have this book but have not read it – yet.
Frozen wastes: a book with a frost-bitten atmosphere
Jar City by Arnaldur Indridasson. When a lonely old man is found dead in his Reykjavík flat, the only clues are a cryptic note left by the killer and a photograph of a young girl's grave. Not only is the setting a cold place but this crime leads to Detective Erlendur following up on a cold case too. I think this was the book that started my journey into Scandinavian Crime fiction.

The Boonies: a book with a rough or isolated terrain
The Woman in Black by Susan Hill. Arthur Kipps is an up-and-coming London solicitor who is sent to Crythin Gifford—a faraway town in the windswept salt marshes beyond Nine Lives Causeway—to attend the funeral and settle the affairs of a client. This is a fantastic ghost story and if you like those types of books you must read it.
Hinterlands and cowboys: a book with a western-esque setting
The Book of Lamentations by Rosario Castellanos. Set in the highlands of the Mexican state of Chiapas, the book tells of a fictionalized Mayan uprising that resembles many of the rebellions that have taken place since the indigenous people of the area were first conquered by European invaders five hundred years ago. Another book I read many years ago.
Look lively: a book set across sweeping desert sands
The Devil's Highway by Luis Alberto Urrea. A non-fiction account of a group of Mexican immigrants lost in the Arizona desert. 26 men started the crossing and only 12 lived to tell what happened. I have had this book on my shelf for a while and want to read it but I just know it's going to make me sad so I need to be prepared for it.
Wild and untamed: a book set in the heart of the woods
In the Woods by Tana French. On an afternoon during the summer of 1984 in a small Dublin suburb, three children do not return from the dark and silent woods. If you have not read any of Tana French's books do check them out. This was the first one I read and have since followed with several of her other books.
Wildest Dreams: a whimsical book shrouded in magic
Like Water for Chocolate by Laura Esquivel. The San Francisco Chronicle calls this, "A tall-tale, fairy-tale, soap-opera romance, Mexican cookbook and home-remedy handbook all rolled into one." I couldn't have said it better. I loved this story and even the movie.
There you have it. I am reminded again about the wonderful places we can be transported via stories. Hope you enjoyed traveling with me and hope you'll play along with this tag as well. Have a happy weekend!