I'm finally joining in on Waiting On Wednesday, a weekly event hosted by Jill from Breaking the Spine which spotlights upcoming releases that we're eagerly anticipating. With so many books coming out this Spring it is easy to pick at least one I'm definitely waiting for.
My selection is: Murder in Morningside Heights by Victoria Thompson.
In the latest from the bestselling author of Murder on St. Nicholas Avenue, former police sergeant Frank Malloy and his wife adjust to life in New York high society as they investigate a death in the field of higher lerning…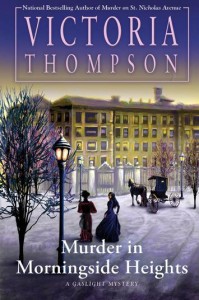 Abigail Northrup of Tarrytown, New York, was her parents' pride and joy. After graduating from a prestigious women's college in Morningside Heights, she took a job there as an instructor. She also joined the ranks of the New Women, ladies planning for a life without a husband in which they make their own decisions and make a difference in the world. Unfortunately, her murder ended all that.
This book is coming out May 3, 2016 and I'm ready to read it. I know I've mentioned several times that this cozy series is one of my favorites. This will be the 19th book in the series and after the last novel, I can't wait to read this one because we'll finally see Sarah and Frank working together to solve crime as a married couple.
How about you, what book are you waiting for?