We've been back in Germany for a few days now but still recovering from our whirlwind trip through Denmark and now of course we are catching up with family and friends.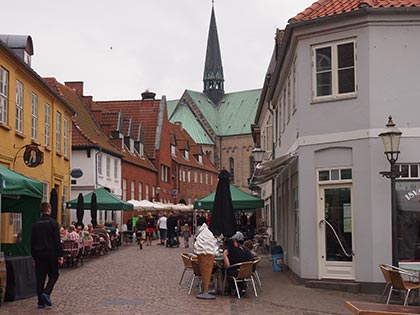 So here are a few pictures from our travels in Denmark. Once I'm back home I'll load up more. Our first stop was a quick one and it was in Ribe, which is Denmark's oldest town, dating back to AD 869. We only stayed around to do some walking and have some lunch and then we were off again.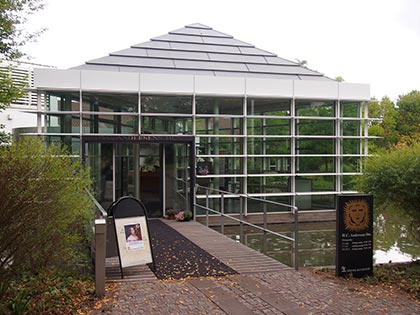 Next stop Odense where we stayed in a wonderful B&B and got to pedal around streets. One of my favorite places was the HC Andersens Hus.
I can't say that I'm very familiar with Hans Christian Andersen's fairy tales but after visiting this wonderful museum I would certainly like to read more.
The museum had different sections devoted to what was going on in the world during his life, story of his beginnings, how he became a writer, his loves, his travels, and so much more.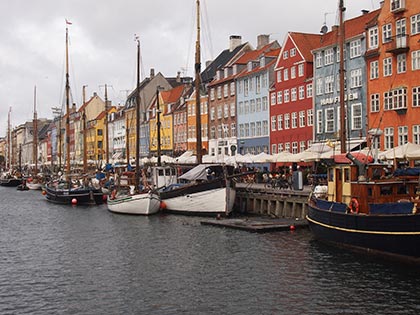 After a couple of days in Odense it was time to visit Copenhagen. Beautiful city, lots of bicycles (my husband was in heaven!) and lots of sights to see. I was not brave enough to do any cycling in Copenhagen so needless to say I did a lot of walking.
I did a bit of book shopping in Politikens Boghal, which has a terrific section of English books. I'll tell you more about those later. We visited lots of cafes and had yummy sandwiches and cappuccinos and we saw lots of cool shops.
Now, one last stop before heading back to Germany and that was Aarhus.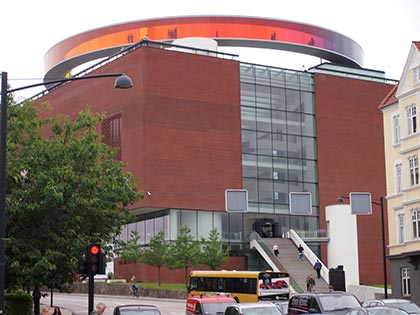 Aarhus was a bit more taxing on us as we stayed at a hostel and let's just say I feel like a need another vacation after that but we did get to spend time with some friends in Aarhus and we visited two wonderful museums.
Pictured here is the ARoS Aarhus Kunstmuseum.
It was great to discover a new country and now as we are back in Germany and coming to terms with the fact that our vacation is almost over we can't help but already talk about next year's vacation.
Anyway, sorry I've not been able to do any blog hopping as I had hoped to but I do look forward to catching up with all of you soon. For now, I'm going to make the most of our last few days here. More bookish talk soon!