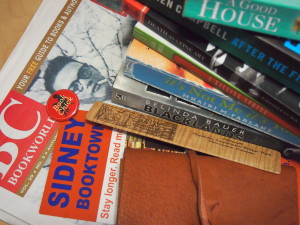 It's amazing that after visiting eight bookshops in Vancouver and Victoria I only came away with six books but I kept telling myself I only had one suitcase so I couldn't go too crazy. I also got a few bookish goodies though to add to my library.
First the goodies. One very cute Book Chick pinback button for my library book bag. A pretty bookmark from the Capilano Suspension Bridge for my bookmark collection. A leatherbound journal from a local artist because even though I make books I love supporting other bookbinders. Plus it is so buttery soft that I had to get it. On the bottom of this stash is a copy of BC Bookworld. I bet I'll be adding a lot of new books to my list.
Now for the books:
A Good House by Bonnie Burnard. Bill Chambers has come home from the second World War with several fingers of his right hand missing but with his will to restore his family life intact. This novel was a Giller Prize Winner.
After the Fire by Karen Campbell. From Publisher's Weekly: Constable Jamie Worth, a newly qualified Strathclyde firearms officer, views himself as a John Wayne sharpshooter with a Glasgow swagger, but after he shoots Sarah Brisbane, an unarmed teenager fleeing a domestic disturbance, his life and the lives of his wife, Cath, and their children, devolve into chaos
Death As A Fine Art by Gwendolyn Southin. Journey into the fashionable art world of 1960s Vancouver as Margaret Spencer and Nat Southby return in Death as a Fine Art, the fifth book in the Margaret Spencer mystery series.
A Killing Spring by Gail Bowen. Gail Bowen, winner of the 1995 Arthur Ellis Award for best crime novel for her last Joanne Kilbourn mystery, A Colder Kind of Death, is back – with her most daring mystery to date. This is the fifth book in the Joanne Kilbourn series.
It's Not Me It's You by Mhairi McFarlane. An achingly funny story about how to be your own hero when life pulls the rug out from under your feet.
Blacklands by Belinda Bauer. British author Bauer's solid debut focuses on Steven Lamb, an unhappy 12-year-old boy who lives with his mother, grandmother, and five-year-old brother in Shipcolt, Somerset. Steven's grandmother is still haunted by the disappearance and suspected murder of her 11-year-old son, Billy, 19 years earlier.
I'm really happy with my new books especially the ones by new to me Canadian authors. The only downside is that some of these are mysteries and they aren't the first books in the series. I guess I'll have to get over that right? Ha. Anyway I've already read one of these so I'll try to have a book review soon. Have you read any of these?