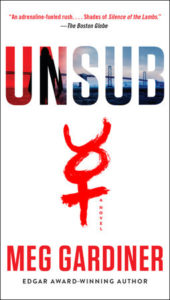 "Caitlin curled into a ball, hugging her bear. She knew what Mercury meant. It meant flashing lights and Breaking News and everybody so scared. A body bag sliding into the coroner's black van. Killer Claims Eighth Victim. It meant you could never close your eyes or turn your back. Because he could get you anytime, anywhere."
Unsub
By Meg Gardiner
Source: Advance review copy
Narcotics detective Caitlin Hendrix remembers those days in the late 90s when her father was on the hunt for the Prophet. A man who claimed victims in the Bay Area. Everyone was afraid to go out and no matter all the cryptic clues he left behind with his victims, Detective Mac Hendrix couldn't catch.
Now years later and two victims are found that bear a strong similarity to the attacks of the Prophet. Caitlin is a rookie detective but given her personal connection she feels she is the one who can help to catch this killer once and for all. Her father warns her to stay away because his life has never been the same after spending so much time only to come up empty-handed.
Caitlin works with the FBI team to determine whether this is the Prophet once again or a copycat killer wanting to gain notoriety. There's a race against time as the body count starts to rise and the once again the city is plunged into fear.
There were a couple of moments that made me shake my head and think this couldn't happen surely. Especially, when a member of the general public inserts themselves into the investigation and Caitlin seems to think this is ok and actually relies on her for information. This character wasn't the typical "CI" that we see in crime shows/novels.
Nevertheless what this book has going for it, is the fast-pace at which the action is developing. I was completely caught up in the investigation and wanting to know how it would end. I was surprised by a few turn of events and overall found this an addicting read. In case you are wondering, this novel was inspired by the events surrounding the Zodiac Killer. This is the first book in the author's Unsub series and I will look forward to the next one and hopefully see that Caitlin's career is on the rise.