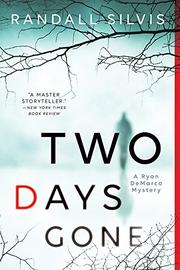 "The college students are anxious to go home now, home to Thanksgiving and Christmas and Hanukah, to warmth and love and light. Home to where men so respected and adored do not suddenly butcher their families and escape into the woods."
Two Days Gone
By Randall Silvis
Professor Thomas Huston is revered by his students and colleagues and can also boast of a successful literary stardom but one evening will change everything. His wife and young children are found brutally murdered and Professor Huston is on the run with all signs pointing to him as the attacker.
For the small town it's hard to believe that someone who seemingly was at the top of their career could harbor such darkness. What made him snap? Sargent Ryan DeMarco doesn't think that Huston was capable of such an act but it's hard to establish his innocence when he's out in the wind.
Sgt. DeMarco has known Huston for quite some time and actually considers him a friend. He doesn't think his judgement is clouded by that but as he interviews students and co-workers of Huston he finds there's a lot about the professor that he didn't know about. In particular the new manuscript that has Huston visiting strip clubs and looking for a dancer as his reference point for his new novel.
There is an interesting balance between the two main characters of Huston and DeMarco. At one time DeMarco also seemed to have it all but now spends a lot of his time watching his estranged wife meeting up with men, drinking too much and often bickering with his superior.
Some of the writing is very descriptive and easily transports you to a cold winter landscape. And, just like DeMarco you want to believe Huston is innocent so the suspense builds as you try to figure out what happened. This was a good thriller despite even if Sgt. DeMarco sometimes was a bit too much of the stereotypical cop who is burnout and makes questionable decisions.
Source: Advance review copy