We had a rainy afternoon today so it was perfect time to curl up with a good book. Well, two good books. I keep going back and forth between these two: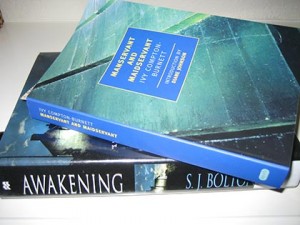 Awakening seems to be the perfect mystery book to get me out of the slump I've had with some mysteries lately. Manservant and Maidservant is for the Slaves discussion coming up July 31. Grab the book and join us.
Oh and I meant to mention that we finally did have our German bread on Monday. Warm from the oven and with Nutella, oh my goodness, so good. For a moment I felt like I was in Germany.
Ok, my books are waiting for me. What about you, what are you reading?