I haven't made it out to the bookstore yet this week but I'm sure my husband and I will find time over the weekend to go visit one. I've got coupons and lots of suggestions on love stories to check out thanks to you guys but in the meantime I have gotten two books this week.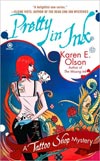 First, I'm super excited about Pretty In Ink by Karen E. Olson. She was kind of enough to send me a copy of her latest Tattoo Shop mystery featuring Brett Kavanaugh, tattoo artist and owner of The Painted Lady, a Vegas tattoo shop.
"If your name is Britney Brassieres, being taken down by a tsunami of champagne might seem only fitting."
After that opening line I can't wait to see what Brett gets up to in this installment. By the way isn't the cover art great? Anyway, I also hope to have a Q&A with Karen so stay tuned for that.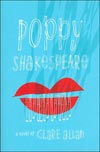 My other book came via BookMooch. Lately I can't seem to find any books I want to mooch and my wish list just keeps growing. Anyway, I was excited to get a copy of Poppy Shakespeare by Clare Allan. I had put that book on my wish list quite a while back and I could barely remember anything about the book.
From the synopsis: Highly original and darkly funny, Clare Allan's debut novel explores the relationship between N., a patient in a mental institution, and Poppy Shakespeare, a new and disturbingly 'sane' arrival who finds herself having to feign mental illness in order to be released.
I'd love to start one of these now but I am so behind on my mystery book and I want to finish it in time for book discussion on Tuesday so these will have to wait a bit. How about you, is there a book you can't wait to start?