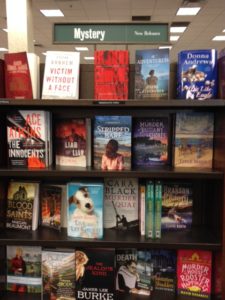 Tonight was another of my mystery book group meet ups. We discussed A Killing At Cotton Hill by Terry Shames. While this was probably not a book I voted for I ended up liking it. The mystery is set in a small fictional town in Texas and I have to admit I don't read a lot of books set in Texas, probably because I live in Texas. So usually when I read I want to "travel" to other places.
Anyway, next up we have Hallowed Bones by Carolyn Haines, a Halloween themed book to read. Which I'll probably count towards my R.I.P. Challenge! We also have books by David Hagerty and Caleb Carr to look forward to later in the year.
I did get to the bookstore a bit earlier before my book group met so I had some time to look through the shelves. I love seeing the new releases and can always find books to add to my TBR list. Tonight for example, I thought Darkness For The Bastards of Pizzofalcone by Mauricio de Giovanni and The Detective and the Chinese High-Fin by Michael Craven looked like good reads.
Before I left I quickly looked through the magazines and picked up Ellery Queen Mystery Magazine. This is the 75th Anniversary edition. Good times at the bookstore.
I'll tell you more about the book we read in another post but for now it's time to get back to some current reads or should I pick up a new book? I really am in the mood for a spooky story but it is kinda late. Do I dare?