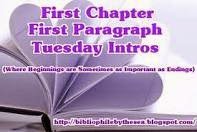 Here's a book I've recently picked up which I thought would be great for First Chapter First Paragraph Tuesday Intros hosted by Diane at Bibliophile by the Sea. Here's the first chapter intro:
"Already the flies were swarming. Four hours on the hot pavement of South Boston has baked the pulverized flesh, releasing the chemical equivalent of a dinner bell, and the air was alive with buzzing flies. Though what remains of the torso was now covered with a sheet, there was still much exposed tissue for scavengers to feast on. Bits of gray matter and other unidentifiable parts were dispersed in a radius of thirty feet along the street. A skull fragment had landed in a second-story flower, box and clumps of tissue adhered to parked cars."
I hope you weren't eating as you were reading this intro. How is this for grabbing your attention? This is from The Apprentice by Tess Gerritsen, the second book in the Rizzoli & Isles series.
Technically I'm not "reading" this book but I chose it as the audiobook for my walks. I don't do audiobooks often as I tend to lose focus easily but when I do get one, I like something that's easy to keep up and I think this one fits the bill. I know I've read some of Gerritsen's books before but it's been a while and I can't remember if I've read anything in this series. What about you, have you tried this author before and based on this intro would you keep reading?