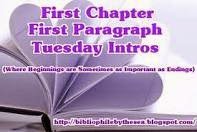 It's been a while since I've done a Tuesday Intro post but given that I have some new books I thought it was a good time to join First Chapter First Paragraph Tuesday Intros hosted by Diane at Bibliophile by the Sea. Here's the first chapter intro:
"Ten years ago, I helped a handful of men take my little brother's life. I wasn't there when it happened, but I told Luthando where to find them. Earlier that year, my brother and I had made a pact to combine our initiation ceremonies. This was back in 1993." 
This intro is from The Reactive by Masande Ntshanga. From Publisher's Weekly: "Gritty and revealing Ntshanga's debut novel offers a brazen portrait of present day South Africa. This is an eye-opening, ambitious novel"
What do you think? Would you keep reading?
I want to finish at least one book before I start another but this one will probably be next up on my list.