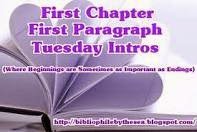 For today's post I thought I'd spotlight a new book  as part of the book tour in conjunction with First Chapter First Paragraph Tuesday Intros hosted by Diane at Bibliophile by the Sea. Here's the first chapter intro:
"Outside my kitchen window the long afternoon empties of light. I look at London stretched out far below, my dripping hands held poised above the sink. The doorbell rings, one long high peal; the broken intercom vibrates. The view from up here, it's incredible, as if you're flying. Deptford and Greenwich, New Cross and Erith, then the river, and beyond that there's the Gherkin, over there the Shard. From my top-floor flat here on Telegraph Hill, you can see forever and as usual it calms me, soothes me: how big it is, how small I am, how far from where I used to be.
The doorbell rings more urgently—whoever it is putting their finger on the buzzer and holding it there. The night hovers."
The intro is from Watching Edie by Camilla Way. It's a psychological suspense novel that weaves together the past and present of two women's twisted friendship. What do you think, would you pick this one up? I love the description of the neighborhood view and I'm certainly curious as to why someone keeps on ringing that doorbell!